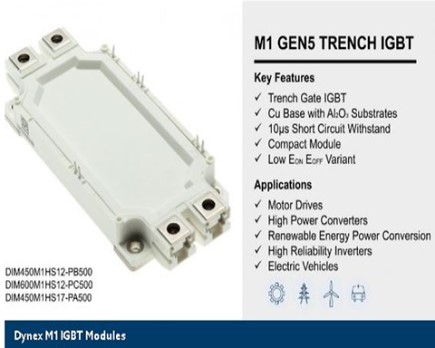 Dynex Gen5 M1 Trench Gate IGBT Modules
1.2kV & 1.7kV Gen5 Trench Gate M1 IGBT Modules The DIM450M1HS12-PB500, DIM600M1HS12-PC500 and DIM450M1HS17-PA500 are trench, insulated gate bipolar transistor (IGBT) modules with enhanced field stop and implantation technology. The IGBT modules have a wide reverse bias safe operating area (RBSOA) plus 10μs short circuit withstand. The M1 modules are designed to scale 152 x 62 x 11mm, and weigh 345g. The modules have a chip Junction temperature operating range from -40°C to a maximum of 150°C. Suitable for applications within the electric vehicle, industrial, renewable and traction markets. The modules incorporate an electrically isolated base plate and low inductance construction enabling circuit designers to optimize circuit layouts and utilize grounded heat sinks for safety.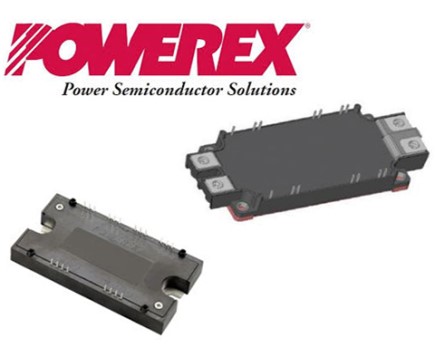 POWEREX Full SiC & Hybrid SiC IGBTs
Large bandgap energy and high field breakdown are two primary characteristics of silicon carbide (SiC) which have been leveraged to create a new generation of power semiconductors with zero reverse recovery charge, significantly lower switching losses and the opportunity for higher temperature operation.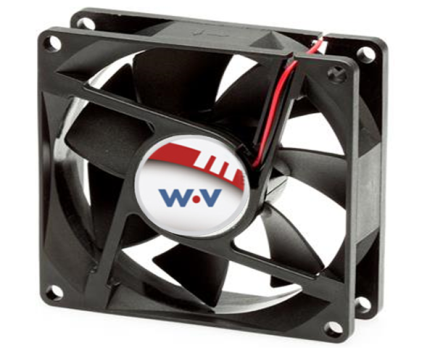 Wakefield-Vette adds DC Fans to product line
Wakefield-Vette produces a line of DC axial fans used on fan heat sinks which are generally used on heatsinks to support BGAs, VGAs and CPU coolers or as chassis fans. The fans range in size from 30x10mm to 120x38mm with the most common sizes in between. The fans are available in 12 volt as the most common, but other voltages (5, 24 and 48) are possible upon request. The standard configurations include 2 wire, 3 wire (tach) or 4 wire (PWM) and can be customized to support any range of connectors