Power Conversion Solutions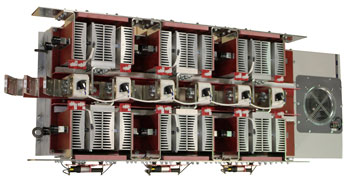 Darrah Electric Company provides customized solutions to convert electrical energy using the latest in
semiconductor technologies. We specialize in offering unique products and turn key solutions, tailored to your specific requirements.
By combining our state of the art 3D Modeling, assembly experience and testing capabilities, Darrah Electric has positioned themselves as a dynamic company that can provide unlimited service and support to our customers.
Our diverse inventory along with "quick turn-around" standard offerings, make us a valuable partner for your company.
Stud, Module, and Press Pack Assemblies
5 - 10,000 Amps to 6,500 Volts
Air and Liquid Cooled
Inverter, Converter, and AC Switches
Drop-in Form, Fit, and Functional Replacement
Links
Power Semiconductor Assemblies
SCR Contactors for Resistance Welding