Darrex Air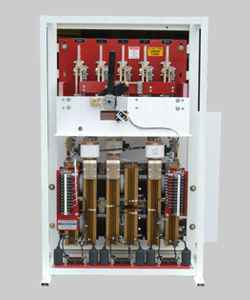 DARREX AIR™ is a drop in replacement Air Cooled Three Phase Diode Bridge and 5-Pole Disconnect Switch for the aging GE Alterrex™ water cooled excitation systems.
The Diode Bridge and Switch are state of the art designs that directly mount to the original equipment cubicle (doghouse) using existing mounting rails and A.C. and D.C. bus bars.
The DARREX AIR™ conversion eliminates the maintenance, reliability and safety issues associated with existing water cooled diode rectifier bridges while meeting and exceeding D.C. voltage and current requirements.

Features of Darrex Air™
Drop in, Form, Fit, and Functional air cooled replacement rectifier bridge and 5-pole disconnect switch for aging, water cooled, Alterrex™ excitation systems.
No water or fans required.
State of the art technology
Six high power hockey puck diodes replace 24 stud diodes
New 5-pole disconnect switch with through the door operation, to comply with Arc Flash safety requirement.
Replacement rectifier bridge and switch replacement are typically installed on site within an 8 hour shift.
Detailed installation instructions
Proven design with installed customer base
Resources
Darrex Air™ Flyer   
Installation Instruction Manual for Darrex Air™  
Operational Test for Air Cooled Darrex™ Excitation Systems