Draw Out Frame Bridges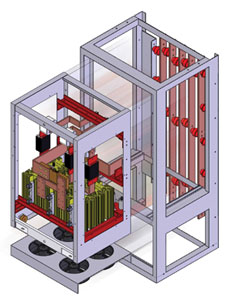 Darrah Electric Company offers a full line of draw-out two and four quadrant SCR bridges.
This product line is especially suited where high current is required and it is necessary to parallel bridges. Draw-out bridges operated in parallel allow removal of one bridge while the system is in operation.
Darrah's draw-out system includes the cradle or drawer along with the support frame. The support frame houses the AC/DC bus bars and draw-out fan panel. Darrah's draw out systems are often designed for updated replacements for existing systems.
Draw-out operation is also available as single and three phase AC switch configurations.
Air Cooled Capacities to 4,000 Amps
Easily add Parallel Systems with change in load demand
Hot Swappable
Offers N + 1 Redundancy