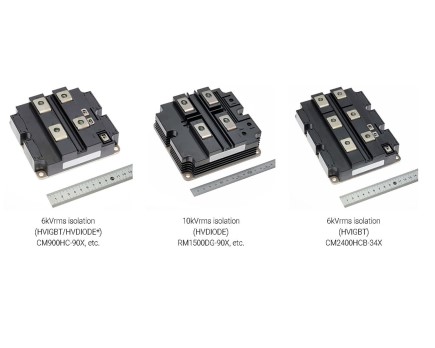 Mitsubishi Launches New X-Series HVIGBTs /HVDIODEs
Mitsubishi Electric to Launch New X-Series HVIGBTs and HVDIODEs 7 new models will meet demands for smaller, more robust inverters systems in large equipment Mitsubishi Electric Corporation announced it has developed seven new X-Series products—two HVIGBTs and five HVDIODEs—boosting the X-Series lineup to 24 power semiconductor modules suitable for increasingly large-capacity, small-sized inverters used in traction motors, DC-power transmitters, large industrial machinery and other high-voltage, large-current equipment. The models will be released sequentially beginning July 1. The modules will be exhibited at "PCIM Europe digital days 2021," the digital version of this power conversion intelligent motion trade show, from May 3 to 7.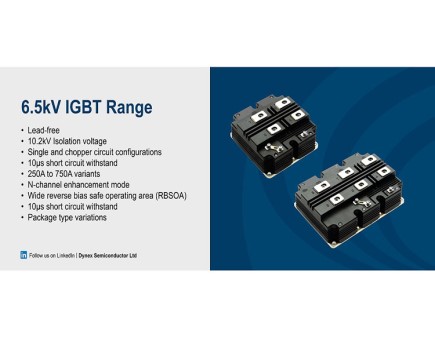 Dynex High voltage 6.5kV IGBT range
Dynex's high performing 6500V IGBT modules are designed in 250A to 750A variants with a 10.2kV isolation voltage and include an option of; chopper and single switch circuit configurations in standard and low switching loss ranges. The 6.5kV range are lead-free and have been designed with an n-channel enhancement mode, a wide reverse bias safe operating area (RBSOA) and 10μs short circuit withstand. Additionally, the modules incorporate an electrically isolated base plate and low inductance construction to enable circuit designers to optimise circuit layouts and utilise grounded heat sinks for safety. These modules are optimised for traction drives, high reliability inverters, motor controllers, choppers and other applications requiring high thermal cycling capability. To extend our existing high-power portfolio, we will soon release a range of 6.5kV trench IGBTs of which the 1000A lead device is currently completing its final qualification stages, ready for release later this year.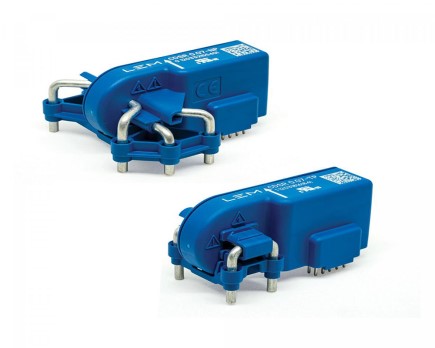 LEM's CDSR SERIES
CDSR is a leakage current sensor developed to meet market demand for a residential and commercial charging station, offering a version for single-phase architecture and another for three-phase topology. With a maximum current per phase of 32A rms, the CDSR can be integrated into AC chargers from 3.7 kW to 22kW.