Power Semiconductor Clamps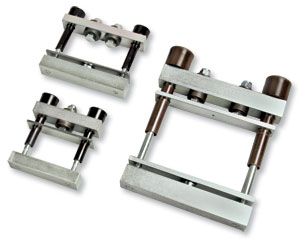 Correctly mounting press pack semiconductors demands the use of a calibrated clamp to exert precise force in accordance with the value indicated by the semiconductor manufacturer. Correct mounting assures a good electrical performance and a low thermal resistance. Darrah provides the most accurate and cost effective press pack semiconductor clamp available. Better yet, they are simpler to use than all competing brands.
Each Darrah semiconductor clamp has a built in force indicator and requires no special gauges or torque wrenches for installation. Darrah clamps have the highest di-electric strength available. Single sided insulated clamps pass 2.5 KV testing. Double insulated are rated to 8 KV, and have been tested to 10 KV. Each clamp is individually calibrated three times prior to shipping and labeled with the corresponding force. Darrah's semiconductor clamp product line is a low profile design and available in mounting force ranging from 4 kN (kilo Newtons) through 90 kN (900 lbs – 20,232 lbs). Please call (216) 631-9970 or email us for any questions or lead times.
---
Top Resource Center Categories