Smart Electronic Battery Sensors
LEM, the current measurements expert, brings its experience and know-how to provide advanced battery monitoring solutions for 12/24V battery storage systems based on lead-acid battery technology.
                                                   LEM in Battery Management System 12V Market

- Historical activity at LEM Automotive since 2003
- Strong market leader on standard ICE vehicle segment
- Unique know-how on sensing technologies (Hall Effect, Shunt...)
- Wide sensor offer: current range & various outputs (analog, CAN, LIN, SoX status)
- LEM Motivation: Provide differentiation in a growing market, where offer is standardized
→ Offer cost effectiveness and flexibility to OEMs
                                                                      LEM BMS 12V FLEXIBLE APPROACH
                                                                        BMS 12V standard value chain: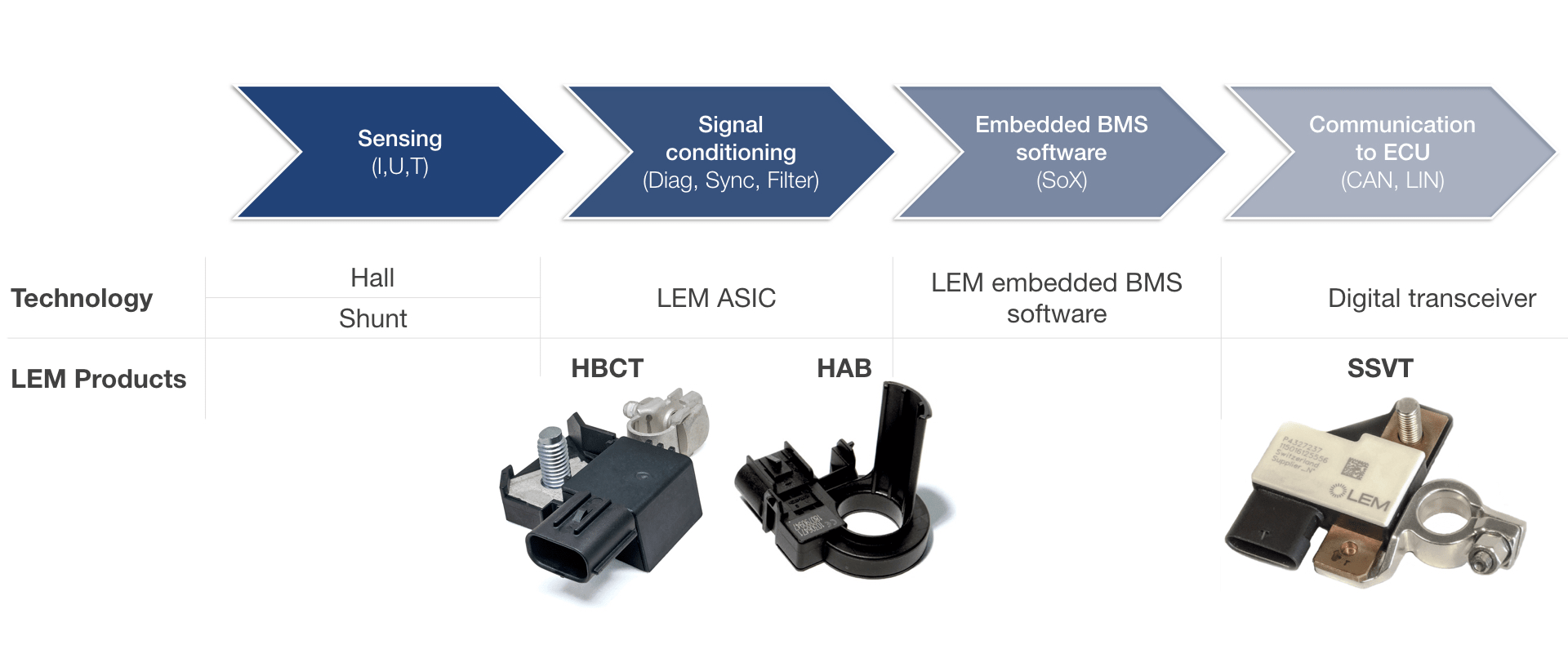 CURRENT SENSING SOLUTIONS FOR LV ARCHITECTURES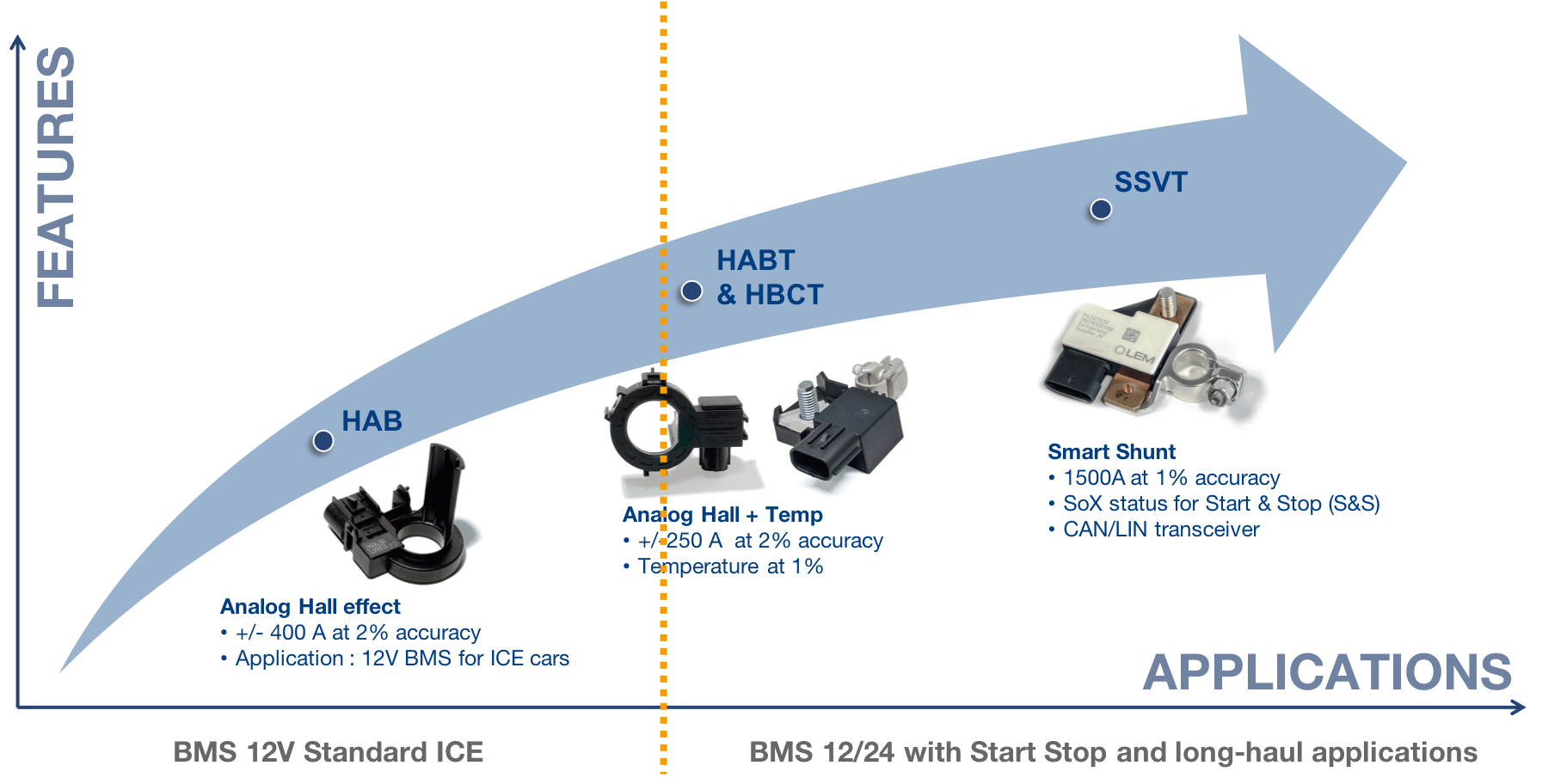 LEM Smart Shunt
LEM the current measurements expert, brings its experience and know-how to provide advanced battery monitoring solutions for 12/24V battery storage systems based on lead-acid battery technology.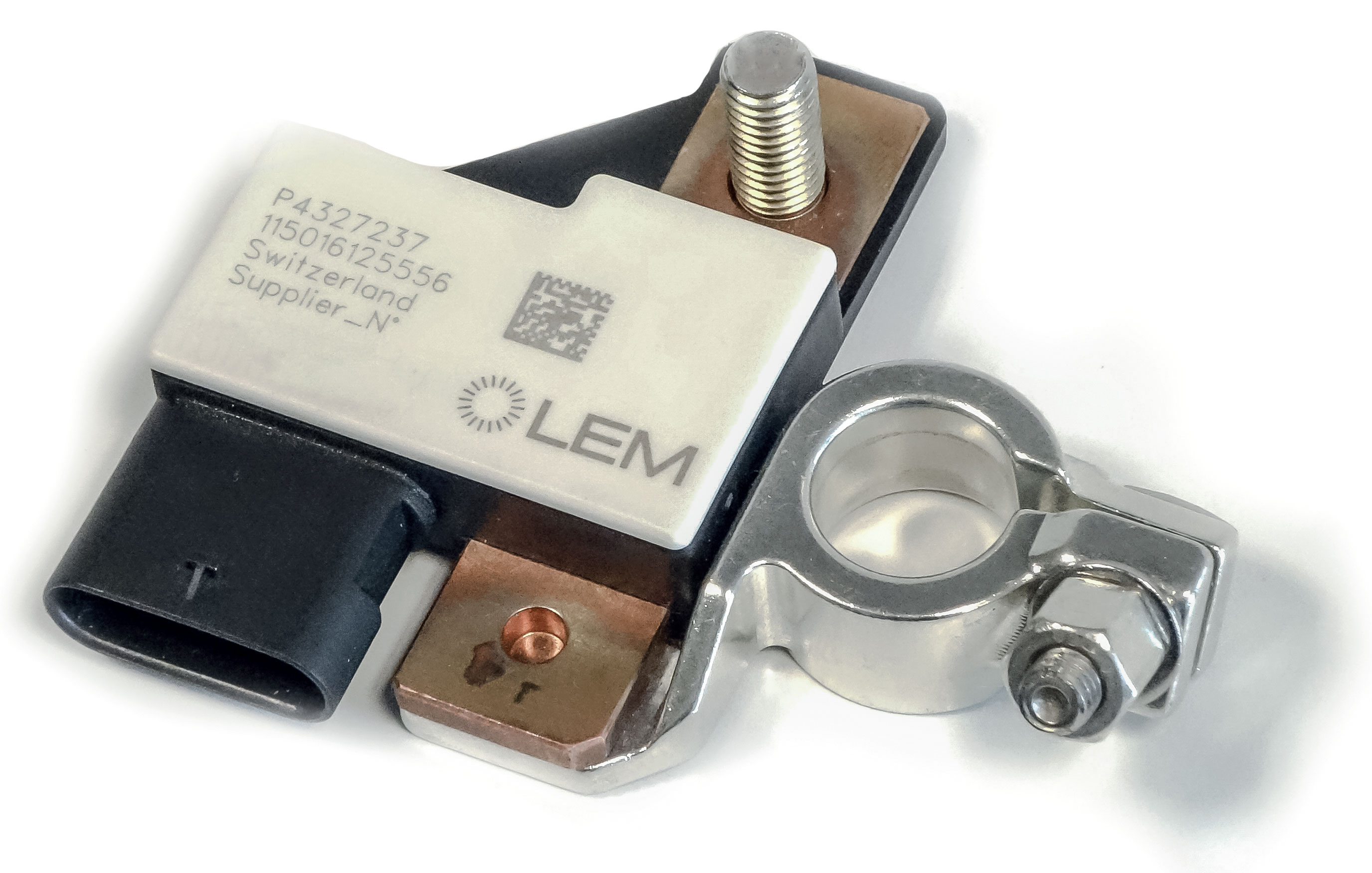 SSVT is LEM Smart Shunt solution dedicated to start & stop systems for both trucks and vehicles markets which require reliable, robust and accurate 12/24V lead-acid battery monitoring like stop-start and deep cycling automotive systems. It provides integrated CAN/LIN bus output, communicating to the central ECU actual battery state in form of State of Charge, State of Health. State of Functions and other customer specified signals based on LEM internal algorithm. LEM integrated smart BMS algorithm has been developed with state of the art solutions based on the Company know-how in power measurement techniques.
                                                                         LEM NEW SMART SHUNT SSVT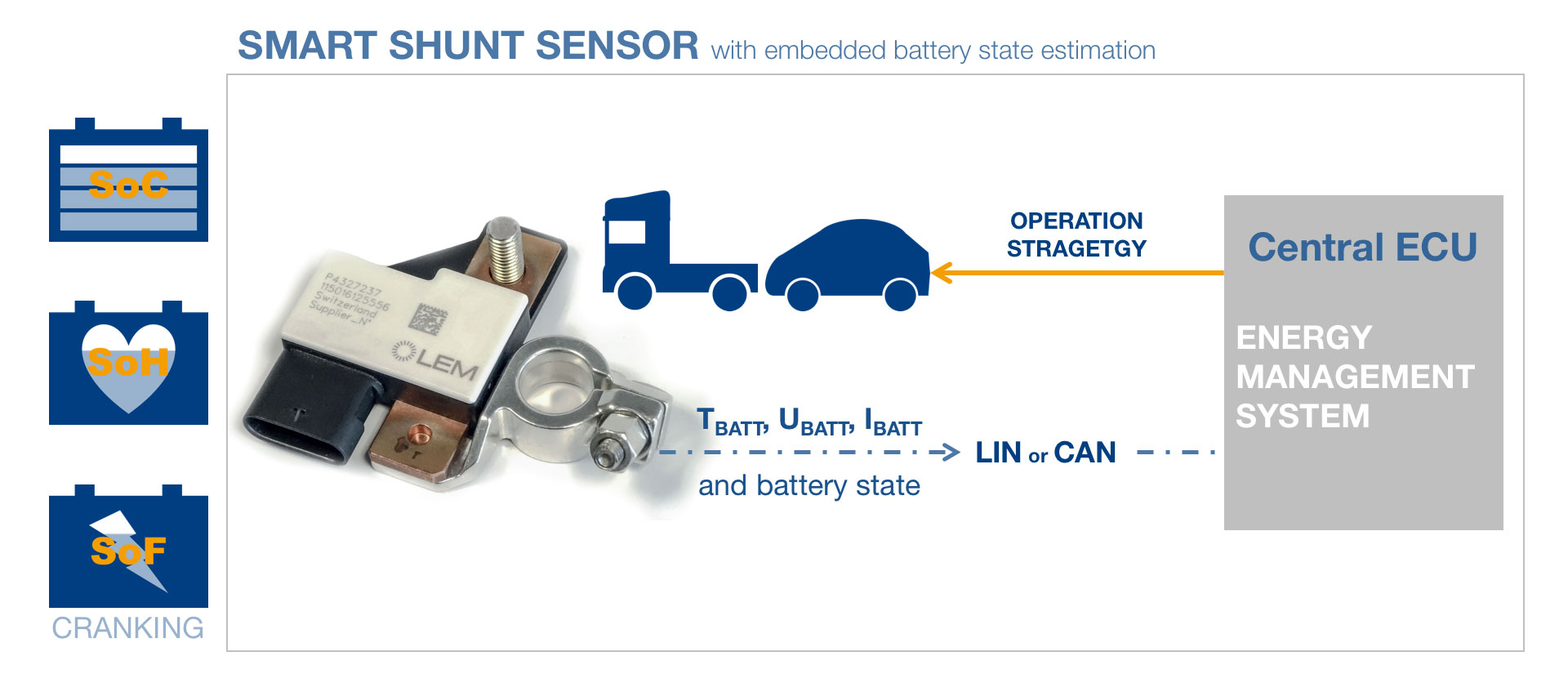 FLEXIBLE SYSTEM APPROACH
- SSVT Sensor acquisition (Tbatt, Ubatt, Ibatt) and digital transceiver (LIN, CAN)
- Embedded battery state estimation (SoX) software allowing real-time battery monitoring
- Open solution for SoX software: LEM proprietary algorithm or OEM solution
- Compatibility with 12V/24V light and heavy vehicle applications incl. start-stop systems
                                                                   SMART SHUNT SSVT: KEY TAKEAWAYS
MAIN SPECIFICATIONS
High sensing range up to +/- 1500A and +6/36V
Current sensing accuracy (max 1%))
Voltage sensing accuracy (+/- 0.2%)
State-of-the-art SoX calculation accuracy
Operating Temperature: -40°C to +105°C
COMPETITION ADVANTAGES
Mechanical and electrical design which is suitable for both light and heavy duty applications with multiple batteries
Flexible battery state estimation software, which supports light and heavy duty mission profiles including stop-start
CAN and LIN communication supported
Flexible mounting for battery terminal or battery stud
Darrah Electric is a proud Authorized Distributor of LEM Products
Click here to see our inventory or contact us for lead times and/or pricing at (216) 631-0912.