Mitsubishi Electric
http://www.mitsubishielectric.com
With over 90 years of experience in providing reliable, high-quality products, Mitsubishi Electric Corporation is a recognized world leader in the manufacture, marketing and sales of electrical and electronic equipment used in information processing and communications, space development and satellite communications, consumer electronics, industrial technology, energy, transportation and building equipment.
Semiconductors and power devices that contribute to reliable technology and power conversion, from in the home to outer space. Mitsubishi Electric is striving to lead the electronics industry with its advanced innovation.
Product Lines:
DIPIPMs
IPMs
IGBT Modules
HVIGBT Modules/HVIPM
Power MOSFET Modules
Diode Modules
PFC Modules
Thyristor Modules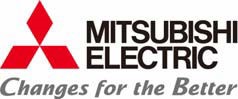 Contact Us for Available Products!